Welcome to Shenzhen Wanxuan Magnetic Industry Co., LTD.
Magnet supplier sharing: What is the principle of neodymium iron boron permanent magnet sintering process?
---
---
NdFeB permanent magnets are now used in many industries, such as machinery, home appliances, aerospace, automobiles, etc., and the growth rate is getting faster and faster. Many companies will purchase NdFeB permanent magnets. There are two different processes for making NdFeB permanent magnet materials into magnets, namely sintering and bonding.
This article mainly shares the principle of NdFeB permanent magnet sintering process! Follow the magnet supplier - Wanxuan Magnetics to understand.
The sintered NdFeB permanent magnet mainly adopts the powder metallurgy process. The smelted alloy is made into powder and pressed into a compact in a magnetic field. The compact is sintered in an inert gas or vacuum to achieve densification. In order to improve the coercive force of the magnet , usually requires aging heat treatment.
(1) During the sintering process of NdFeB permanent magnet green embryos, a series of physical and chemical changes will occur, such as: the removal of gases adsorbed on the surface of powder particles, the evaporation and volatilization of organic matter, the elimination of stress, the surface of powder particles Reduction of oxides, recovery and recrystallization of deformed powder particles.
(2) The magnet supplier told everyone that next, atomic diffusion, material migration, and the contact between particles changed from mechanical contact to physical and chemical contact, forming a combination of metal bonds and covalent bonds.
(3) The contact surface between the powders expands, and the sintering neck appears, followed by the growth of the sintering neck, the increase of the density, and the growth of the grain. The powder green body has a large porosity and a large surface area, so the surface energy is also large, and it also has lattice distortion energy. The magnet supplier told everyone that this can make the powder green body in a high state as a whole. It is unstable from an energetic point of view, with a tendency and driving force to spontaneously sinter and bond into a dense body.
Sintered NdFeB permanent magnet material has very good magnetic properties, which is why so many industries choose it. Magnet supplier - Wanxuan Magnetics has produced and manufactured magnets for many years. It has rich experience and supports customization. Welcome to consult !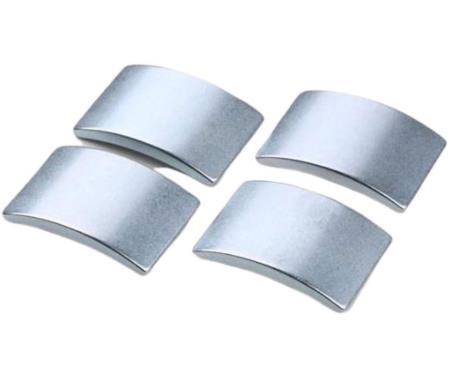 ---